Do You Have a
Rodent Problem?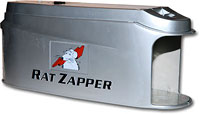 Rat Zapper Ultra
$59.95
Free Shipping
The Rat Zapper Ultra is very effective and more humane than snap traps, glue boards, and poison. It is safe around children and pets.

The new, larger Rat Zapper Ultra uses D-Cell batteries to kill even larger rats as well as mice. Longer battery time provides more kills. Delivers approximatly 30 kills or operates in stand by mode for 60 days on stand by mode per set of batteries. Perfect for on-going infestations and larger rodents (works on the small ones, too!).




HOW THE RAT ZAPPER KILLS MICE, RATS AND OTHER RODENTS



The Rat Zapper electronic mouse and rat trap kills mice and rats with a deadly shock. It works alot like the stun gun that police use on criminals.

The Rat Zapper Ultra combines a Power Supply and Kill Chamber in one portable unit. The Power Supply is designed to detect the rodent and energize the chamber.

The Kill Chamber houses a bait area and Kill Plate. You merely let some dry pet food slide all the way to the back of the Kill Chamber and place the Rat Zapper against a wall. When the Rat Zapper detects the presence of a rodent on the Kill Plate, the Power Supply instantly releases electrical energy sufficient to kill the rodent. A red light on the Rat Zapper blinks to let you know that you need to empty it out.

The Rat Zapper contains no moving parts, so it doesn't wear out.




| | |
| --- | --- |
| | Reduce exposure to Hantavirus and other dangerous diseases |
| | Kills rats and mice with a deadly shock |
| | Safe around pets and children |
| | Clean (no blood or guts) |
| | Re-usable |
| | Easy to use |
| | Dimensions:4"x 4-3/4" x 11-1/2" |
| | More humane than snap traps, glue boards, and poison |
| | More effective than ultrasound |
| | Optional Rat Tale |

The Rat Zapper Ultra and its packaging are entirely made with recycled materials.

Rat Zappers have been making peoples' lives easier since 1994.


MultiScope
1135 N. Poinsettia Drive
Los Angeles, California 90046
Phone: (323)851-1878
Toll-Free Number: (888)246-8776
Fax: (323)212-4700
Email: mail11@multiscope.com

© 2010 Advin Systems